Vale
"Bailey"
CH BULLROY BOLT CUTTER ROM
2005- 2010

Taken too soon, Bailey now resides on my loungeroom shelf next to Rose and Billy.
Bailey was my friend and I loved him dearly, not only did he have that loving nature but he was probably the best bull terrier I have set eyes on.

Bailey has big shoes to fill, however we are grateful that we have his progeny.
He will live on here at Brasshead always.

2005 - 2011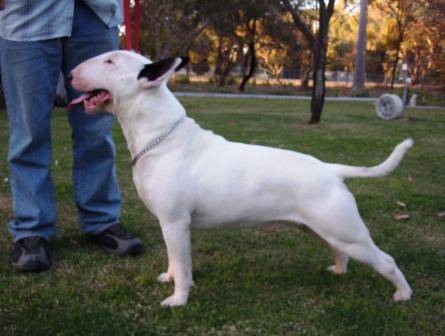 Brasshead Piping Hot (AI)
Sire: Int CH: Boromir Quicksilver ROM Imp NZ
Dam: Boromir Ozone Baby Imp NZ
Recently during minor surgery, Blade passed away unexpectedly from a blood clot, leaving his beloved owners Alan & Jan in disbelief.
Blade had been a huge part of Alan's life, walking him everyday along the beach often getting approached by people, admiring him. In his six years, Blade won many of our Specialty Open Shows and Funday's.
Blade loved his family as much as they loved him, a couple of years ago he was injured by burglars where he was hit in the head with a 4x2, the nail piercing his skull, Alan and Jan would never leave Blade at home alone after that, he had many holidays with us at Brasshead during their annual holidays.
Blades presence will be missed at our Fundays and all of us at Brasshead, our deepest sympathy goes out to Alan, Jan and Family.


"Billy"
GRAND CHAMPION BEKMAR BILLY IDOL ROM
2000 - 2009
It is with great sadness that our great boy "The Billbasaurus" has crossed over the rainbow bridge, knowing Billy he has already caught up with Rose and they are probably curling up together somewhere thinking of home, then again knowing Billy he is probably doing more than that!!!
Billy was a great show dog, friend and family member to all at Brasshead, we will miss you old boy.
You will never be forgotten, you are known worldwide for your numerous accolades!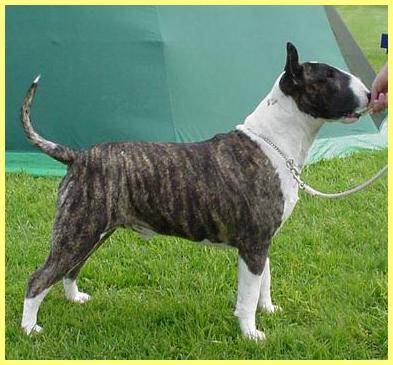 REST IN PEACE OUR GRAND BOY


"Rose"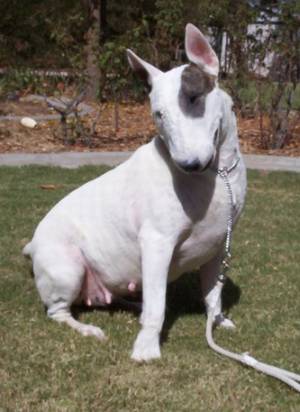 Grand Champion Maolmhin Devils Voodoo ROM
1997 - 2006
Both Rose and Simba have a rose planted in their memory in our garden and I am sure they are snuggled up together now in the sunniest part of the garden.
Rosie was one of our family, we loved her, and she loved us, it has been very quiet here without her, NOT that she was noisy, NOT that she was always in your way - YEAH RIGHT!
Rose was one of those Bull Terriers that if you are ever fortunate enough to experience, break your heart and you never forget.

I don't need to talk about Roses show career, she was a Grand Champion and a ROM and that speaks for itself, I would like to reflect on Rose as our girl, "Rose Petal", "Pond Pig" "Nosie Rosie" to name a few.

Rose was the biggest attention seeker that you would ever know, her nick name " Nosie Rosie" was given to her as she loved handbags, and would make her business to nudge her nose through every little nook and cranny, no matter who owned it.
She was however the perfect "show pony" full of enthusiasm, write up until her last couple of days Rose acted like she was a puppy' full of life. I remember a certain bull terrier enthusiast from Perth quoting, "That bitch would show in a snow storm"
Two days before Rosie was overtaken with her illness, I had some friends come over "How is Rosie they said" Have a look for your self, Rosie was full of energy, and I commented "Shhh! She doesn't know she is dieing" I would not have thought in two days we would be saying goodbye Rose had the best personality and loved babies , as a youngster she would collect fluffy toys and try to feed them, as a mum herself she was the best, she would of fed any animal given the chance, when other bitches were feeding she always tried to feed the pups herself and would often produce milk.

My brother inlaw also cursed with cancer, visited us just after losing Rose, and commented on how beautiful our fruit trees looked in full blossom, and his next words were "You might get more fruit this year, without old Rose" My brother inlaw loved Rosies character and couldn't believe that a bull terrier could strip a nectarine tree before they ripened, she would eat pears, nectarines, apricots, anything! I remember taking Rose to the vet once, I was in tears she couldn't walk, she couldn't lift a leg to get up the step, I carried her into the vet, he ultra-sounded her and started to laugh, he said she is full of fruit stones and a lot of GAS!, he asked me to take her out side and try to get her to walk. I carried her outside, put her down, and low and behold, she let rip! She unloaded 16 nectarine stones in one go, How foolish did I look, paying $70 and all she needed was a Sh*T.
When we learned of Rosie's cancer we were told she had 3 months, it would be very rapid and she would go very quickly, Rosie steamed past her 3 months, entering the parade of veterans at the Terrier Championship Show a month before she past, she was in her glory that day, she was her usual "show pony" self. Rose loved children, babies, her kennel mates and especially her cats, we would often see her snuggled up with them.
Sadly four days after losing Rosie we also lost our Bengal "Simba" whom was very rarely allowed outside, he drowned in our swimming pool.