About Us
Kerry is a licensed Bull Terrier Specialist Judge listed on the
National Bull Terrier Council Australia NBTC(A) ROM Judges List.

Kerry has judged Bull Terriers and BT Miniatures in Perth, Adelaide, Melbourne , Sydney, Canberra & New Zealand, in May 2007 Kerry judged The Highveld Bull Terrier Club Specialty Championship Show in South Africa and in 2009 Kerry had the priviledge to be invited back to South Africa where she judged three championship shows including her first FCI show.
Kerry is also a licensed "All Breeds" judge registered with the Australian National Kennel Council
Kerry & Paul both hold long term Executive positions on The Bull Terrier Club of South Australia Inc. and Kerry is currently in her eleventh year as President and has been awarded with her Life Membership of the BTCSA Inc. Kerry is also the Vice President of the Marion Kennel Club Inc.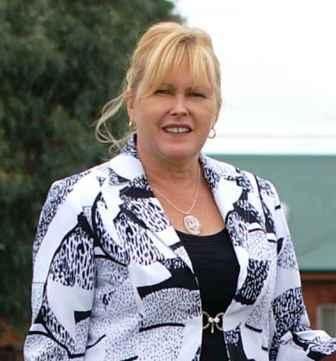 Although Paul has owned bull terriers since the early 80's & Kerry has bred Staffordshire Bull Terriers in 80/90's, they have both been involved in Bull Terriers together since 1995, purchasing their first Bull Terrier "MOLLY". from the late David Cuthbert. Since that time, strong friendships developed between David & his wife Netta. Our next bull terrier was also from David Cuthbert and our first successful show bull terrier "ROSE", Kerry campaigned Rose solely to her Grand Championship and became the first Grand Champion in Australia to receive both her Grand title and her ROM (Recognition of Merit) status. Over the years Kerry co-owned dogs with David and his daughter Diane again being very successful in the ring with both "EMMA" Grand Champion Maolmhin Seduction ROM and "BILLY" Grand Champion Bekmar Billy Idol ROM.
ROSE, BILLY and EMMA were raised, cared for and loved by all solely at BRASSHEAD. All of the first three Grand Champion ROM bull terriers in South Australia (Rose, Billy and Emma) all lived at Brasshead for the entirity of thier show careers and or passing. Grand Champion Bekmar Billy Idol ROM lived at Brasshead until his passing in 2009.
ROSE sadly passed away in 2006, EMMA is living in luxury with her new pet owners in South Australia.

We have co-owned imports from NEW ZEALAND, "MACE" INTERNATIONAL CHAMPION BOROMIR QUICKSILVER ROM, "RICCO" AUST CHAMPION BOROMIR HOLY ROLLER AND "CHINA" BOROMIR OZONE BABY. The proud parents of BRASSHEAD HOT BUTTERED "Mason" & BRASSHEAD PIPING HOT "Blade" both proven sires.
Our latest co-ownership with New Zealand is NZCH: CHARLEMAGNE KAUSE I SAID ROM
In 2006, Paul and Kerry chose a new path in their breeding program and have been very fortunate to use quality dogs from some of the top breeders in Australia.
In recent years we have used imported bloodlines from the USA and the UK.

OUR HOME BRED SUCCESS IN RECENT YEARS
CH BRASSHEAD DOMINOE (ROM)
CH BRASSHEAD VOODOO BEAR
CH BRASSHEAD BLACK EYE PEAS
BRASSHEAD OBE ONE KANOBE
CH BRASSHEAD BEAR WOLF
CH BRASSHEAD BEAR WITCH (ROM)
CH BRASSHEAD JEDI KNIGHT
CH BRASSHEAD ROBIN HOOD
CH BRASSHEAD TOY SOLDIER
CH BRASSHEAD AMERICAN WOMAN (AI)
BRASSHEAD BEWITCHED (ROM)
CH BRASSHEAD GOTHIC VORTEX OF BOROMIR (AUST & NZ ROM)
CH BRASSHEAD BLARE WITCH
CH BRASSHEAD WITCHES BRITCHES (ROM)
BRASSHEAD WITCHY POOH
CH BRASSHEAD GOTHIC WITCH
CH BRASSHEAD GOTHIC CLOWN (ROM)
CH BRASSHEAD GOTHIC GODDESS
BRASSHEAD RIVER QUEEN (AI) (ROM)